The last International Grand Chapter of the Prieuré de Sion was held on 19 November in Arezzo, at the Castello di Valenzano, Tuscany, during which the traditional ritual meeting took place.
During the ceremony, the title of Ambassador of the Prieuré de Sion for Italy was conferred to Prof. Giorgio Baietti, an occasion in which a program of cultural intent of the Priory for 2023 was presented, which scheduled the publication of a cycle of articles about Rennes le Château and a conference that will approximately take place in April.
Following the contribution, Prof. Giorgio Baietti paid homage to those present, sharing the fruits of his studies about Rennes le Château and Bugarach, within the time limitations imposed by the circumstances.
Below, we report a part of Professor Giorgio Baietti's speech at the International Grand Chapter of the Prieuré de Sion.
SPEECH BY PROFESSOR BAIETTI OF 29-11-2022 AT
THE CASTLE OF VALENZANO IN AREZZO
"Rennes le Château is a small village with 75 inhabitants in the South of France, where I happened to be by pure chance in 1986. I was studying in Genoa at the time.
But let's start from its capital, Carcassonne, a false-medieval citadel, built in the 19th century, which however the French pass off as medieval, where a bishop in 1830 left the episcopal palace to move 50 kilometers south, to Rennes le Château.
In 1800 a Bishop didn't even usually leave the palace. Why then does a Bishop leave the city to ride 50 kilometers of muddy roads in a carriage and go to Rennes le Château, which is a village of goatherds, peasants and people who could neither read nor write? He was a Norman from Normandy, and he wanted at all costs that the parish priests of Carcassonne were Normans, but he was immovable at everyone, except for the successor who he would soon choose! His name was Felix Arsène Billiard, this Bishop, who found in Bérenger Saunière, the final choice as the new Perish he was looking for. Bérenger Saunière that was studying at the seminary of Carcassonne, once completed studies, was sent immediately to this town, which is called Le Clat.
Bérenger Saunière stays here for three years and two important things happen, one is that some shepherds want to kill him. But why do some pastors want to kill the parish priest? But oh well, the other important thing is the church rectory.
This rectory was built in the 19th century and collapsed in 1960.
It is interesting to remember, in this regard, that for the collapse of this dilapidated house, the generals of the gendarmerie arrive. The Gendarmes are the French Carabinieri; Gendarmes arrive, colonels from Paris who take over the case. So one wonders, why do three-star generals come from Paris for a collapsing cottage? There was certainly something that interested Paris, perhaps because it was the work of Bérenger Saunière, that structure.
Berénger Saunière therefore returns to this mysterious country and begins to design and erect strange constructions such as this tower, the Magdala Tower. In this place, everything is dedicated to Mary Magdalene. The Madonna is not represented in any way or is behind the Altar, in the churches there is Mary Magdalene.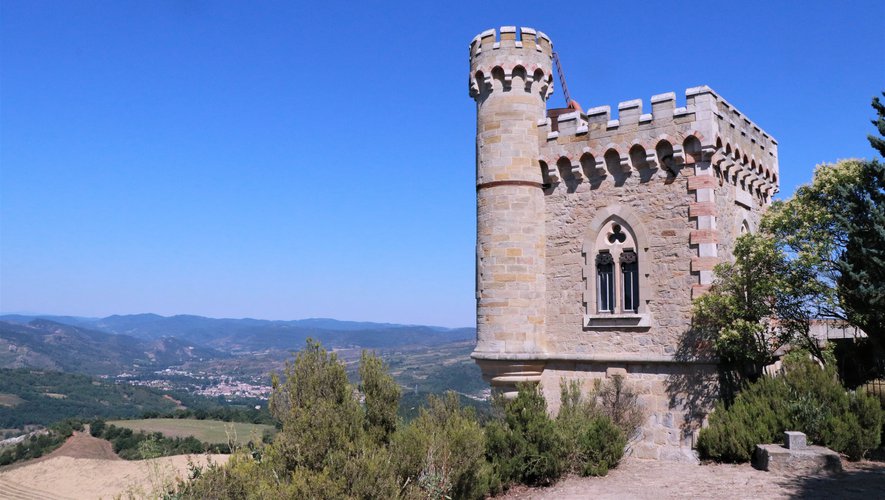 The cult of the sacred feminine is very strong in this area, this is evident to the point that you breathe it as you set foot here and the parish priest begins to go shopping spree.
He built this tower, then the Villa Bethania where, among others, he hosted the Archduke of Austria Stephen of Habsburg and where Jules Verne and Maurice Leblanc certainly also came.
Jules Verne, author of the famous Journey to the Center of the Earth. Maurice Leblanc is the inventor of Arsenio Lupin, the famous gentleman thief. I repeat, the striking thing is that they were both Normans and if you take books by Leblanc, well there are stunning parallels with the South of France.
A surreal detail is that among Jules Verne's books, one of the least known is Clovis Dardentor, set in Algeria. In the story, there is a map of Algeria in which Oran faces Casseigne, but Casseigne is not facing Oran, but its facing Rennes le Chateau! And then at a certain point he begins, without a plausible explanation, to exalt a name, François Arago and mentions him several times on a page, at least, for no apparent reason.
Arago was a French minister, astronomer and mathematician, for a time Director of the astronomical observatory in Paris, where the famous French meridian passes.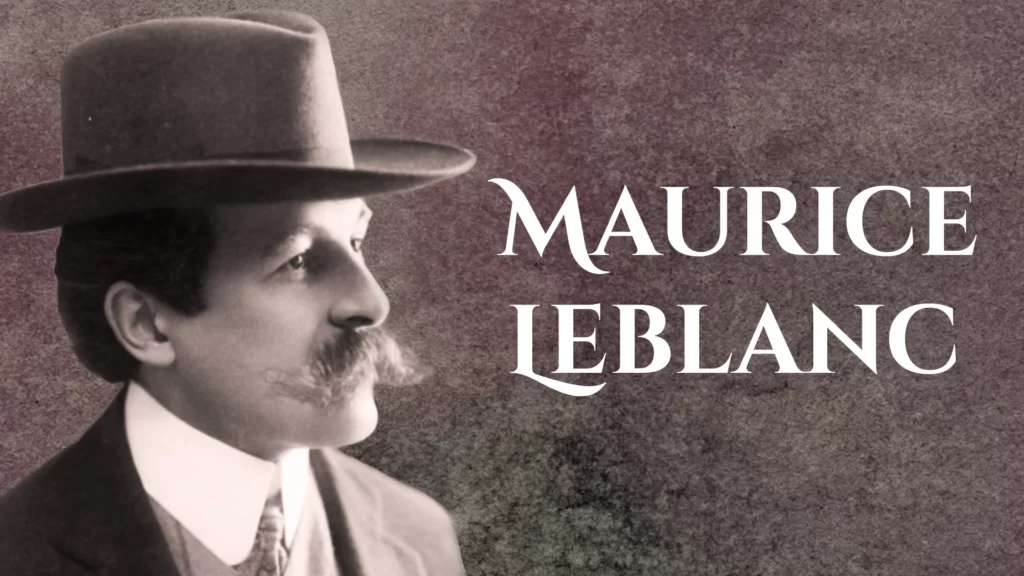 The French chauvinists didn't want the Greenwich meridian, but they wanted their own meridian and François Arago was the superintendent of that meridian.
And which of you remembers the movie The Da Vinci Code? How did the Professor find Mary Magdalene's tomb? Following medallions on which Arago Nord and Sud were written and they really are there, they are located in the 7th Arrondissement of Paris and lead to the Louvre, where François Mitterrand had the famous glass pyramid built.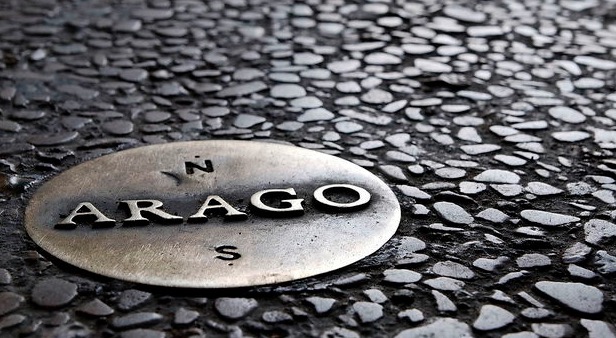 I open a parenthesis: French President, Mitterand, who as he is appointed President of France, makes his first official speech here at the top of the Magdala Tower.
Why did a French President leave the Elysée in Paris in 1981 to make a speech on top of a tower believed to belong to the esoteric tradition?
Mitterrand, it was known, was an important exponent of Freemasonry, so he probably had his reasons for coming there.
Saunière was very poor and to start the renovation works asked the Mayor for modest sums, and among the works carried out, we find these strange things, such as the sentence extracted from Genesis, Terribilis est Locus Iste, which we find at the entrance, combined with a series of symbols and inside, we find this demon, who was called Asmodeus.
An Arab woman, some say linked to ISIS, entered the church in April 2017 and vandalized the statue of the demon, along with other belongings of the Church.
This demon, Asmodeus, is one of the demons mentioned only in the Gospel of Tobias. Asmodeo is the destroyer of couples, pushing husband and wife to quarrel, make them leave, so much so that he kills a series of husbands and the only one who defeats him was Tobias, who has then married Sara. If we look at the statue, we see that it has a strange position, as if the chair underneath is missing.
In reality, the chair is there, and it is the famous Devil's Armchair which is nearby. Then there is this strange gesture that the demon makes with his hand, as if to indicate a circle, which is not to stand on a stick, but indicates the source of the circle which is precisely nearby and refers to the energy that passes underneath Rennes le Château, through the underground water channels.
The church of Rennes le Château has a series of Saints, including Saint Germana, of Pibrac, Saint Rocco who has a wound on his right leg, instead of on his left. Sant'Antonio da Padova, Sant'Antonio Abate, who is the Saint of January 17; then he reverses the evangelists Luca with Giovanni, then Germana, Rocco, Antonio da Padova, Antonio Abate and Luca. So if you join these points on the plan of the church with a pencil, an "M" is created, the M which is believed to refer to Mary Magdalene.
Then on January 17, an optical phenomenon occurs which seems to depict a blue apple tree inside the church.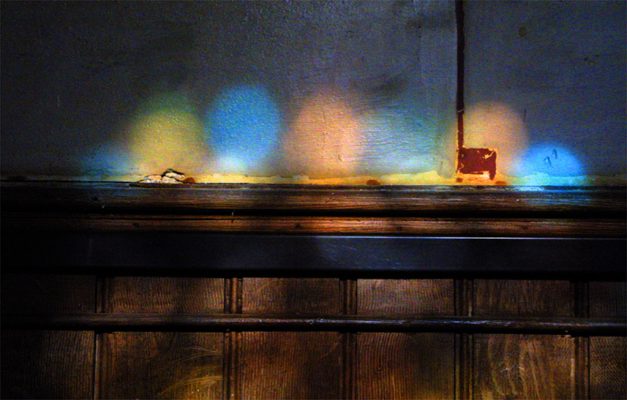 Observing the church and the bizarre and sumptuous buildings, it seems that Saunière lived like a Renaissance Prince, having a billionaire fortune at his disposal. But how did he make all this money? Some say that he found parchments, others that in this part of the cemetery there was the tomb of a Marquise, on which a series of errors were engraved except in sections where everything was written correctly. Contradiction so obvious that it seems deliberately a code, actually.
On the tombstone of the Marquise Marie de Nègre d'Ables, the word requiescat in pace becomes requies catin pace, as shown below.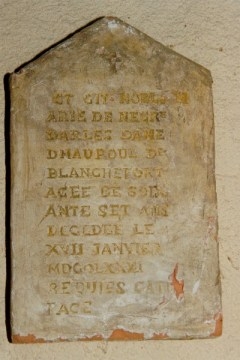 +
CT GIT NOBLe M
ARIE DE NEGRE
DARLES DAME
DHAUPOUL DE
BLANCHEFORT
AGEE DE SOIX
ANTE SEPT ANS
DECEDEE LE
XVII JANVIER
MDCOLXXXI
REQUIES CATIN
PACE
So, isolating the word "catin", in French slang, it means prostitute. Then this woman dies on January 17, 1781. In 1781 there was no Robespierre, there was still the Ancien Régime in France. So a parish priest who writes prostitute on the tomb of a Marquise seems not very credible at all as option. It then turns out that this tombstone, Saunière destroyed it, since it had been copied. So you will say to me: "Why?" and the answer is because, very probably, there were alchemical symbols, which he needed to become rich, immensely rich, but above all, extremely influential.
Just once he had obtained this wealth of several billion old lire and an influence that was objectively improbable for a village parish priest, Bérenger Saunière clashed with the new Bishop. The situation was quite clear in this case; as long as there were Norman bishops everything went well for him, but then a non-Norman bishop was appointed, who asked him "how can you, parish priest of a small of ignorant goatherds, be richer than me who am the Bishop" but Bérenger Saunière didn't care, he didn't answer him, so the Bishop summons him 2 or 3 times and then suspends him a divinis. However, Saunière certainly did not give up and seemed to have excellent tools to defend himself, such strong strong tools to be able to assert his reasons at the Vatican.
Here everything becomes even more unusual, because yes, the Pope agrees with the Priest against the Bishop!
Let's reflect about it: a Pope who agrees with a simple Priest against his Bishop! However, the Bishop didn't decided to give up either and wanted to send the Priest away at all costs, but the people are faithful to him and only go to Mass if he celebrates it.
Unfortunately, however, his days are about to end and on January 22, 1917, Bérenger Saunière dies; it is said that a parish priest called to give him extreme unction, terrified, came out of the room where Saunière was spending his last hours, refusing to give him the sacraments. He was buried in the cemetery, with a cross, with the "N" deliberately turned upside down. That is just as the Marquise tomb, everything is right, but the "N" had to be on the contrary, because it is typical of the symbology we find in this place and of the Tradition to which it belongs.
In 2004 the new Mayor of Rennes le Château, who was, not surprisingly, a new right-hand man of Francois Mitterrand, decided to remove Saunière's tomb from there and replace it with a really ugly and modern one.
So on January 22, 1917 Saunière died and obviously he took his great secret to his grave.
The Rennes le Château area is closely linked to Catharism which was a religion in which it was believed in the existence of two types of deities, a god Rex Mundi, the god of matter, and the true and spiritual God who is in the skyes.
Not only does Catharism still strongly hover in this area today, but it was also of great interest to Nazism, so much so that Otto Rahn, a member of a specialized fringe of the SS, the Ahnenerbe, was sent there. The Anhenerbe was an SS division that engaged in historical and esoteric researches.
Sent by Rudolf Hess, Hitler's dauphin, Otto Rahn was commissioned to investigate this tradition in the Pyrenees. He was searching the Treasury of the Cathars, which is certainly a spiritual treasure. Hitler was for sure looking to find the Spear of Longinus, which was considered part of the Habsburg treasure and was obviously also looking for the Cup of the Holy Grail, which was said to be hidden in that area.
Otto Rahn, who will later take the rank of Major of the SS, began to travel around these countries frantically.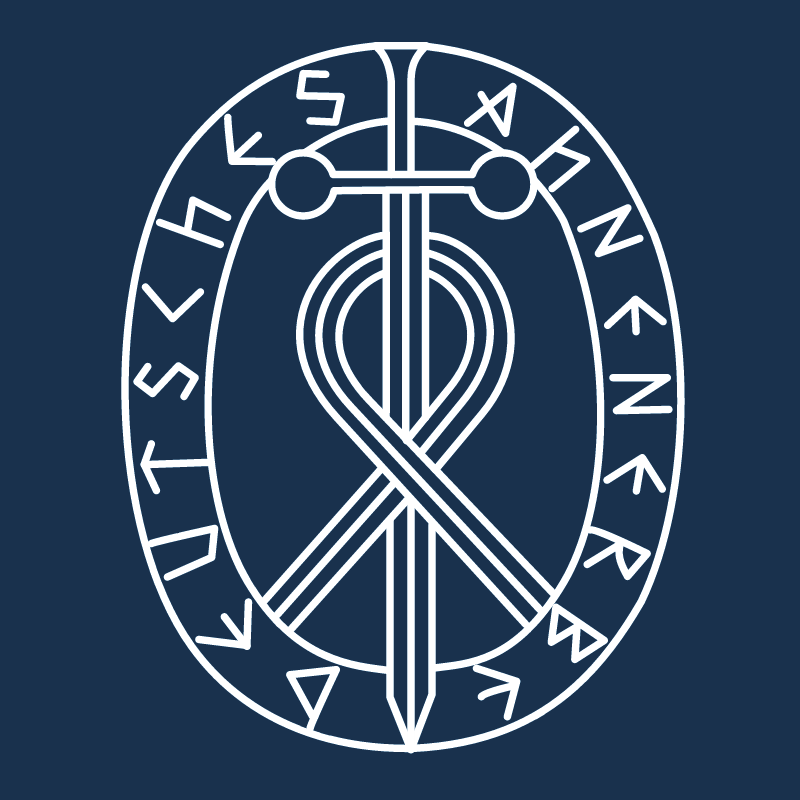 Otto Rahn is fascinated by a legend, which speaks of a beautiful woman who roamed these Pyrenean mountains, completely naked. For the typical, average people of the 19th century, such a beautiful woman, walking around naked in the mountains, was no good. So they took her and dressed her and she undressed and immediately returned to the top of the mountains.
They get her 2 or 3 more times, until then she, unfortunately, died right in a house, because she hated to stay in a house with clothes on. But she was not crazy, so much so that she will flee to the caves of Lombrive, which are nearby and Otto Rahn will find a poem written on this wall, which he attributes to this beautiful woman, and which says:
"What is God? Far from deciding anything about this Supreme Being, let us keep a profound silence, adoring him. The mystery is immense and the Spirit is confused. To say what He is, one must be in Hisself"
Otto Rahn is struck by these words, returns to Germany, tears off his SS uniform and is said to have died, killed or committed suicide on Mount Kufstein.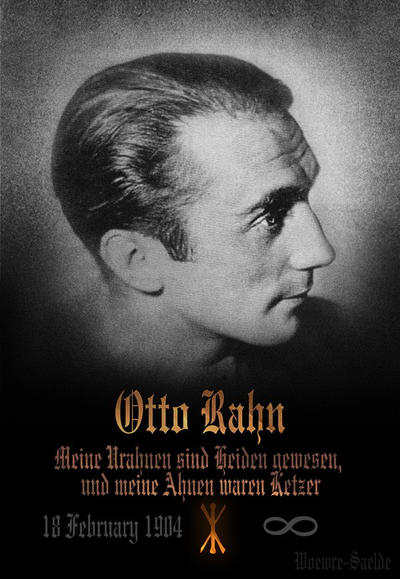 But one cannot speak of Catharism without speaking of Mount Bugarach, which is close to Notre Dame de Marseille, a basilica in the countryside which housed this Black Madonna, a statue venerated for millennia because it healed the eyes.
Blind people used to go there. There are many ex-votos hanging.
This Black Madonna, already adored since the Middle Ages, is also adored by Andrea Chénier, a French poet who was guillotined by order of Robespierre. Why does he guillotine him? Because women liked Andrea Chénier, and not much Robespierre.
So he hated Chénier and had him guillotined for no specific reason, accusing him with pure pretexts. Chénier, before the blade cuts off his head, invokes his thought to this Black Madonna.
Then Robespierre said "I had Chénier's head cut off, let's also have it cut off the Madonna whom he venerated". So he orders the Jacobins of France to go to this country, enter the Church, take the statuette and cut off its head.
Precisely at that juncture, it is said that a beautiful woman, dressed in black, entered the church, routed Robespierre's soldiers, took the statuette and fled across a meadow, disappearing.
The soldiers have to send this report to Robespierre, someone who makes anyone cut off their heads and they think: "is he going to cut off our head too for this?". But luckily for them the terror ends because Robespierre, went beheaded too and the statuette reappeared after decades in this meadow. Subsequently, Bishop Felix Arsène Billiard will pay a huge amount to buy this very lawn where that woman disappeared.
Unfortunately, this statue no longer exists. In 2004 I was in Naples for a conference and they called me to tell me that a madman had entered the church and then torn the statue to pieces. Robespierre didn't succeed, but this lunatic, like that Arab woman, did.
The reason? Obviously, when questioning the arrested person, he entrenched himself saying that he was part of an unidentified sect. What Robespierre couldn't do, this lunatic did. It is also part of a series of individuals who go there to destroy, steal and even kill. There are several deaths, yes, that's right, deaths…strange car accidents which later turn out to have been caused by the car's slashed brakes.
We cannot forget the three authors of "Le Serpent Rouge – Notes sur Saint Germain des Pres et Saint Sulpice de Paris", Pierre Feugere, Louis Saint-Maxent and Gaston De Koker, who published this ballad on January 1967, died immediately after publication under very unclear circumstances, having all hanged themselves simultaneously on the same day.
But let's go back to this mountain, which is called Bugarach and is located in an area full of mysteries.
This mountain is more or less 1350 meters high and is like the citadel of the Cathars. This is the mountain considered most important, one of the most important in French ufology.
Strange night lights, sightings and disappearances occur here.
In this mountain, the most important disappearance took place in the 70s when a Swiss gentleman who was one of the security personnel at the Geneva airport, a Swiss Calvinist, airport guardian, someone who went around with two watches…just the boredom in person.. this gentleman, who was always very elegant, clean-shaven, with a watch on his wrist, is the protagonist of this story. The landlady who rented the house to him saw him after a few days. He has a long beard with a crooked tie, no watch, and she thinks "what a change!". He says a sibylline phrase "I'm going to the mountain to look for the light that comes from underground".
They find him a few days later, dead, on the slopes of the mountain. The cousin who is from Geneva, also very similar to the guardian, finds this death very strange.
Thus he begins to make inquiries, he asks people in the Bugarach area, if anyone has seen his cousin.
He then goes up the mountain, at one point he sees hooded people digging in the rock with a pickaxe. He called them, showing his cousin's photo and these, without lifting the hood, took it and threw it into a cave and buried him there.
The man finally manages to free himself, digging with his hands and breaking his nails. Back in the village, he was in a state of confusion, he doesn't know how he got out of that cave and when he arrives at the gendarmerie station, there are no more gendarmes but there is the Municipality, he sees the photos of him hanged. "These French are smart. I disappeared and after half an hour they already posted my photos". Thought the man. Instead, three years had passed, his wife had left him, he had lost his job and was presumed dead.
Despite all this, he always repeated and swore that he had only been away for half an hour. And everyone thought he was crazy or that he was shamelessly cheating to justify his sudden, inexplicable and absurd disappearance. But it cannot be ignored that until the last day of his life, in 1976, he always swore he was only went away for half an hour.